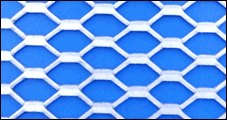 Aluminum mesh can be aluminum woven wire mesh, expanded aluminum mesh or perforated aluminum metal mesh. Aluminum materials usually refer to pure aluminum or aluminum alloys.



Aluminum Woven Mesh:
Aluminum wire woven mesh is mainly used as window screening made into square opening wire mesh. It is light, ventilate and offers longer service life. Standard mesh counts for woven aluminum mesh goes from 2x2mesh to 28x28mesh while wire gauge applied goes from 16, 18, 21, 24, 25, 27, 28 to 32 SWG.

Benefits of aluminum woven wire mesh:
Corrosion resistant, alkali resistant;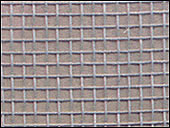 Extremely tough and durable;
Good flexibility and high strength.

Standard roll width: 0.6m to 1.5m
Length: 1m.

Aluminum Expanded Mesh:

Expanded mesh.

Expanded metal is a process where sheet metal has been slit and expanded into rows of diamond shaped meshes. None of the metal is not lost in the process, nor is the strength of the sheet reduced. The formation of the diamond adds to the rigidity and strength of the sheet. Where strength without excess weight is desired, for free passage of light and air, for utility and beauty in numerous applications, concealed or exposed, expanded metal, in it's variety of sizes and choice of metals offers exceptional versatility and is economic.

The expanded mesh is used in various applications such as walkways, balustrades, security screens, fences & ventilator grills.

We stock a wide range of specs, which are readily available.


Aluminum expanded mainly serve for decoration, making of battery and other uses.
Assortments:

Expanded aluminum mesh, Diamond Shaped;
Tortoise-shaped heavy type expanded aluminum;
Flattened expanded aluminum;
Decorative expanded aluminum.