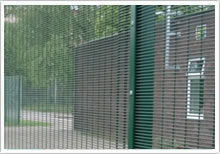 High security 358 mesh fence is anti-cut, anti-climb, water resistance powder coated with marine grade Plastic. Popular product is ½" x 3" 8 gauge galvanized, and ½" x 3" 10.5 gauge GAW plus heavy duty PVC coating. Wire: 4 mm, galvanized + powder coating. Black or green epoxy coated steel security fencing for machine safety guarding screen.



Anti Climb 358 Welded Mesh finds predominant use in fencing systems designed to bring maximum perimeter protection to a site. This style of mesh is universally accepted as the most secure form of high security welded mesh panel. 358 Mesh Fencing has significant inherent advantages over products such as chain link fencing or other forms of welded mesh fencing owing to its unique configuration.
358 high security mesh is supplied in a varieties of materials:
 
358 mesh panels hot dipped galvanised;
358 panels made from Galfan/ Bezinal (Zinc Alu) wire;
358 galvanized and powder coated perimeter security fencing panels.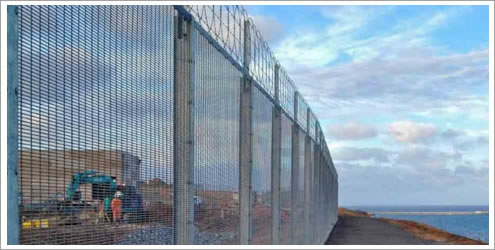 2x2 welded wire 358 security fence prison mesh
Security fence is the premier anti climb fence it is often used in prison so also called prison mesh, it consist of 3" x 0.5" mesh opening and 8 gague wire diameter its super antil climb fence the grap just approve one fingers go through. The 358 wire mesh fence with a high degree of physical perimeter protection. The panels are manufactured to form a mesh pattern of 76.2mm x 12.7mm using 4mm diameter vertical and horizontal wires welded on intersections. Evergreen Hardware provide the 358 fence the panel size and other details could custom made. 

Panel Size: 2400mm height x 2530mm length 
Infill mesh opening: 3" x 0.5" x 8gague wire 76.2mm x 12.7mm x 4.00mm wire 
Fence Post: 80 x 80 x 2.5mm thick x 3000mm length with insert hole for M8 bolt 
Clamp Bar: 80 x 80 x 4.00MM THICK 2400mm length 
Finish: HOT DIPPED GALVANIZED WITH POWDER COATING OR PAINTING 
PER SQM WEIGHT: 9.1KG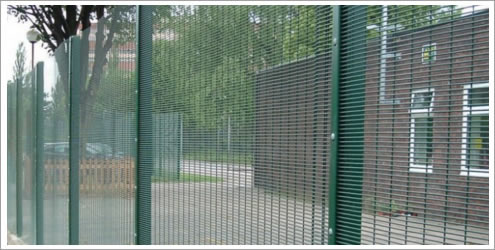 Anti climb vinyl PVC coated 358 wire mesh fence
Application:
High security 358 fence is world renouned for its performance as an anti-climb & anti-cut through barrier, whilst providing the lowest level of visual impact to the surroundings. Designed to give attractive, long lasting and secure perimeter protection for retail,industrial and commercial properties, schools, public utilities and is ideally suited for electronic alarm and detection systems 
358 security fence
Mesh
 76.2*12.7mm     
 Height
 1.5m,1.8m,2.1m,2.4m
Wire diameter
 2-8mm
Length
 2.4m or customized
Surface
 welded and plastic coated ,or  or electroplating, hot dip,  plastic coated
Antiseptic treatment
 Galvanized, copper plating, plastic spraying, dipping plastic
Colour
 Yellow,green,blue etc
Origin
 Anping country,China

We can also accept custom order holland wire mesh size.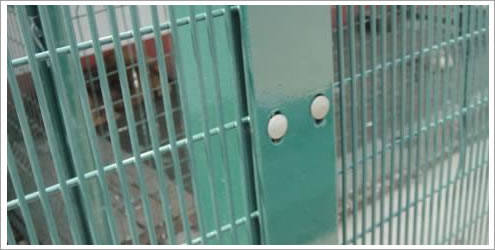 76.2mm*12.7mm hot dip galvanized high security 358 mesh fence