As a kind of market grade general purpose wire mesh, Galvanized Square Wire Mesh offers the following features:

Great dimensional strength and stability, smooth and uniform surfaces, excellent rust resistance, fire retardant and fireproof.



Materials: Galvanized iron wire, electro galvanized or hot dipped zinc coated wire
Packing: In rolls, wrapped with waterproof paper then covered with hessian-cloth. Special packing may be arranged if necessary.

Where Galvanized Wire Mesh is Used: Industries and constructions to sieve grain, powder, filter liquid and gas, for other purposes like safe guards on machinery enclosures. Besides, it is widely applied for the substitute of wood strips in making wall and ceiling.

Specifications: Please refer to lists below for reference. Sizes not listed available at customers request.
Assortments available:
<1>Crimped galvanized square wire mesh
<2>Standard galvanized square wire mesh
<3>Hot-dipped galvanized square wire mesh
<4>Galvanized after woven square wire mesh
<5>Galvanized before woven square wire mes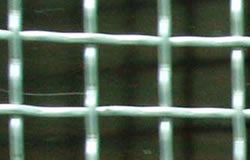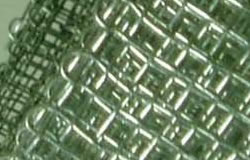 Mesh
Wire Gauge(BWG)
2
18,19
3
19,20,21
4
20,21,22,23
5
22,23,24,25
6
22,23,24,25,26
7
23,24,25,26
8
24,25,26,27
10
28,29,30
12
26,27,28,29,30
Remark: Square Iron Wire Mesh is normally supplied in 100'roll and width of 24", 36", 48". Custom order available also.