Black Wire Cloth ( Mild Steel Wire Mesh )

Material: Super quality low carbon steel wire.
Weaving: Plain or twill woven wire cloth. Can be processed into filter discs of various sizes.Specialists in cut to size panels in all shapes including, squares,rectangles and circles in all materials and mesh sizes.
Use: Black Wire Cloth is mainly used in filtration of rubber, plastic, petroleum and grains industry.
Low Carbon Steel:Low Carbon steel (C1008) is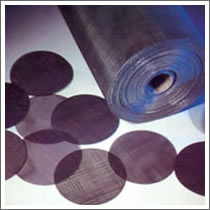 frequently used in the manufacture of industrial woven and welded mesh products due to its low cost and ease of workability. This material has a low resistance to abrasion, chemical attack and corrosion. This material is available in bright and black annealed. Our bright annealed material is much cleaner than standard commodity black steel.
Plain Steel Wire Cloth,Plain Weave:

| | | |
| --- | --- | --- |
| Mesh | Wire Dia.( mm) | Opening (mm) |
| 8 | 0.71 | 2.47 |
| 10 | 0.65 | 1.89 |
| 12 | 0.60 | 1.52 |
| 14 | 0.50 | 1.31 |
| 16 | 0.40 | 1.19 |
| 20 | 0.40 | 0.87 |
| 24 | 0.35 | 0.71 |
| 30 | 0.30 | 0.55 |
| 40 | 0.25 | 0.39 |
| 50 | 0.20 | 0.31 |
| 60 | 0.17 | 0.25 |
| 80X70 | 0.135 | |
| 100X90 | 0.11 | |
Plain Steel Wire Cloth,Dutch Weave:
| | |
| --- | --- |
| Mesh | Wire Dia.(mm) |
| 12X64 | 0.58/0.64 |
| 14X88 | 0.50/0.33 |
| 24X110 | 0.36/0.25 |
| 30X150 | 0.23/0.18 |
| 40X200 | 0.18/0.13 |