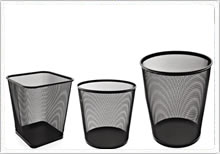 Mallas Wire Mesh Bins are made to customer requirements. Any degree of cleanliness and surface profile can be obtained quickly and efficiently by the experts at Mallas (China) Wire Mesh Manufacturing. Any type of coating can be applied in our ventilated, easy-to-clean wire mesh waste bins.

Mallas can supply various sizes of wire mesh waste bins made of galvanized steel wire.
Materials for wire mesh waste bins can be woven or welded wire cloth.
Applications: Mallas waste bins are used in offices, families, supermarkets and other sites.
When you order wire mesh bins from Mallas, please indicate the sizes, wire gauges, mesh opening and holding capacity.