Mallas is the major manufacturer of stainless steel wire mesh of China, specially known for its best quality and excellent reputation. Popular materials used are to DIN 1.4301 / AISI 304 and DIN 1.4401 /AISI 316. Opening types can be square mesh or space meshes.

Varieties of Stainless Steel Wire Mesh:
Mallas Square Wire Mesh in Stainless Steel can be classified into: Plain weave and Twill weave. Fine woven wire cloth can be classified into Dutch weave, Reverse and Five Heddle weave.


Stainless Steel Wire Mesh Plain weave is the most commonly used weave. Each warp wire crosses alternately above and below each weft wire. Warp and weft wires generally have the same diameter.

Twill Weave Stainless Steel Wire Mesh is made by each weft wire passing alternately over two, and then under two successive warp wires and each warp wire passing alternately over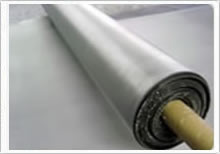 two and under two successive weft wires. It is possible to be used to allow a heavier than standard wire diameter.
Varieties according to materials:
Stainless steel wire mesh type 304
Stainless steel wire mesh type 304L
Stainless steel wire mesh type 316
Stainless steel wire mesh type 316L
Uses: Stainless steel wire mesh and stainless steel wire cloth products are widely used in petroleum, chemical industry, environment protection, mine, airspace, paper-making, electronic, metallurgy etc. Special size and specification are available according to customers' requirement.
Sizes: (Width/Length)
Standard roll width: 1m to 48"
Standard roll length: 30m to 100"
Stainless Steel Woven Wire Mesh (Plain Weave)

mesh/inch

wire diameter
(mm)

aperture
(mm)

-

mesh/inch

wire diameter
(mm)

aperture
(mm)

2mesh

1.80

10.90

60mesh

0.15

0.273

3mesh

1.60

6.866

70mesh

0.14

0.223

4mesh

1.20

5.15

80mesh

0.12

0.198

5mesh

0.91

4.17

90mesh

0.11

0.172

6mesh

0.80

3.433

100mesh

0.10

0.154

8mesh

0.60

2.575

120mesh

0.08

0.132

10mesh

0.55

1.990

140mesh

0.07

0.111

12mesh

0.50

1.616

150mesh

0.065

0.104

14mesh

0.45

1.362

160mesh

0.065

0.094

16mesh

0.40

1.188

180mesh

0.053

0.088

18mesh

0.35

1.060

200mesh

0.053

0.074

20mesh

0.30

0.970

250mesh

0.04

0.061

26mesh

0.28

0.696

300mesh

0.035

0.049

30mesh

0.25

0.596

325mesh

0.03

0.048

40mesh

0.21

0.425

350mesh

0.03

0.042

50mesh

0.19

0.318

400mesh

0.025

0.0385
Stainless Steel Woven Wire Mesh (Twill Weave)

mesh

wire diameter (mm)

aperture (mm)

material (AISI)

250mesh

wire dia.0.040mm

0.063

304 or 316

300mesh

wire dia.0.040mm

0.044

304 or 316

325mesh

wire dia.0.035mm

0.043

304 or 316

350mesh

wire dia.0.030mm

0.042

304 or 316

400mesh

wire dia.0.030mm

0.033

304 or 316
Stainless Steel Wire Cloth (Plain Dutch Weave)

Mesh
Wire Diameter (d0)
Aperture
Vertical
Horizontal
Vertical
Horizontal
Microns
12
64
0.62
0.42
270-290
14
80
0.50
0.30
220-240
24
110
0.38
0.25
115-125
30
160

0.23

0.18
95-100
40
200
0.18
0.14
70-75
50
250
0.14
0.11
60-63
Stainless Steel Wire Cloth (Twill Dutch Weave)

Mesh
Wire Diameter (d)
Aperture
Vertical
Horizontal
Vertical
Horizontal
Microns
20
250
0.25
0.23
110-120
32
360
0.23
0.15
100-110
40
400
0.18
0.14
90-110
50
500
0.14
0.11
70-90
50
600
0.14
0.09
60-70
80
800
0.12
0.07
45-65
165
800

0.07

0.05
24-26
120
1000
0.08
0.055
27-28
165
1450
0.07
0.04
16-18
325
2300
0.038
0.025
8-9