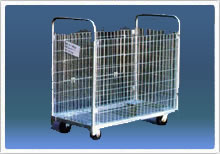 Mallas (China) Wire Mesh Manufacturing has experience in wire fabrication. We are fully qualified to manufacture from all types of carbon steel and stainless steel. Mallas is able to supply collapsible wire mesh containers and folded wire carts for supermarket, airport and other uses.
Material: Hard-drawn carbon steel wire, steel pipe and steel plate.
When you order Mallas Wire Mesh Containers, please provide drawings, standard of materials, technical requirements, external and internal sizes, wire gauge, mesh size, cage height, gross weight, your special requirements if any.

Processing: Wire containers are made through electrical spot welding, common welding, electrical galvanizing or powder coating.

Mallas Wire Container has firm structure, corrosion resistance and rust resistance.

We can supply heavy type and light type wire containers and carts made with big wire gauges and small wire gauges.