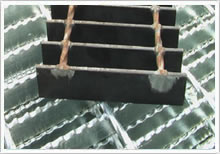 Steel Bar Grating is made by stainless or mild steel of certain sizes through the processing of grooving, lock-pressure, welding, finishing and other treatment. Industrial bar gratings can be actually made from copper, aluminum and other materials, while galvanized steel grating is the mostly used one due to its economic cost and good property.


Steel bar grating, with robust design and spanning abilities, is very strong and safe for the support of floors and elevated walkway. It can be used for ceiling, interior decoration, decoration, platform aisle, ventilation windows, (Wells), advertising plaque and other construction.
Materials:
Mild carbon steel provides an economical, high strength for uses in most industrial and commercial applications.
The advantages, specific application and features of steel bar grating:
Steel grating offers the following advantages compared with steel grid sheets:
Steel grating has light weight, good strength, large carrying capacity and can save materials and cost. It offers good ventilation of light and wind, a modern sense, aesthetic appearance and anti-skid safety. It is also easy to clean, easy to installation and durable for uses.
Steel grating products are designed and manufactured for various industrial and civil constructions in city road, gardens, yard, airport, railway and industrial engineering, and they offer the following the features:
Aesthetic outlook: Simple lines and silver appearance meeting the modern trend.
The best drainage: Leakage area of 83.3 percent, more than twice of cast iron products.
Hot-dip galvanized treatment: Good rust-proof property, maintenance-free replacement.
Anti-theft design: The cover and the frame is joint with hinge offering security, safety and open convenience.
Savings investments: Large-span. Less lost for heavy load compared with cast iron products. Cost can be saved for the risk of being stolen or crushing one if cast iron is uses.
High strength: The strength and the toughness are much higher than cast iron. Can be used for terminals, airport and other large-span and heavy loading condition.
Specifications: More specifications and sizes optional for meeting various environment, load, span, sizes and shapes.
Surface Treatment:
Steel grating untreated: Allowing quicker delivery to customers whom fabricate and galvanize the grating on their own.
Galvanized: Hot Dip Galvanizing can give a hygienic and clean maintenance free bright finish.
No
Item
Description
1
Bearing bar
25x3,25x4,30x3,30x4,30x5,32x5,40x5,50x5,.....75x10mm
2
Bearing bar pitch
12.5, 15, 20, 23.85, 25, 30, 30.16, 30.3, 34.3, 35, 40, 41, 60mm. US standard: 1"x3/16", 1 1/4"x3/16", 1 1/2"x3/16",  1"x 1/4", 1 1/4"x 1/4", 1 1/2"x 1/4" etc.
3
Cross bar pitch
38,50,76,100,101.6mm
4

Material

Q235,A36,SS304
5
Surface treatment
Black, hot dipped galvanized, paint
6
Thickness
Thickness≥3mm, depth ≥19mm
7
Standard
China: YB/T 4001.1-2007
USA: ANSI/NAAMM(MBG531-88)
UK: BS4592-1987
Australia: AS1657-1985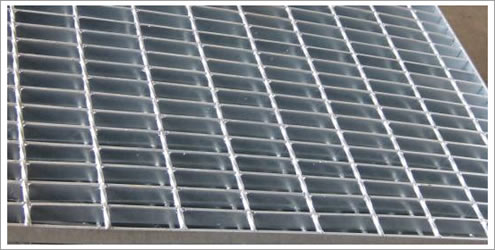 We supply four categories pressure locked bar gratings according to sizes and structures:
1, Ordinary steel grating maximum working height of 100mm. Steel grating length is usually less than 2000mm. Ordinary bearer flat grooving, the rail steel molding pressure lock.
2, Steel grating height of not more than 100mm. Steel grating length is usually less than 2000mm. Integral bearing steel and rail steel having the same height as the bearer flat notch depth 1/2.
3, Sun steel grating, grating height is less than 100mm. Bearing steel open 30 ° or 45 ° chute, slotted rod steel slotted lock molding press. Depending on the distance required to hand over the other specifications of the grid plate, you can use ordinary carbon steel, stainless steel, aluminum and other materials.
4, Heavy-duty grating: high steel and flat steel crossbar bite each other, at 1200 tons of clamping pressure molding. Suitable for high bearing loads span occasion.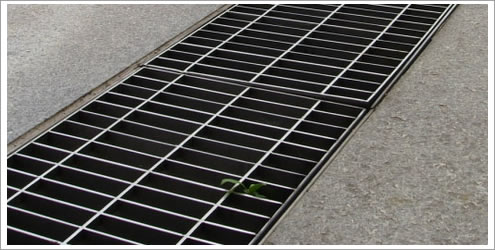 Compound or Composite Grating Panels are composed with Two Parts: Steel Grating and Anti-slippery tread plates. The steel grid grating offers load bearing and spanning capability. The anti-slippery tread plates as surface are made of diamond pattern checkered plate offering excellent slipping resistance.
This kind of bar gratings may deform going through the hot dipped zinc coating process. So heavy type steel bar with big gauge is normally chosen in making composite steel grid gratings.
The checkered plates covering for Compound Gratings are normally supplied in the thickness of 3mm, 4mm, 5mm or 6mm.
The Anti-Skid Checker plates can be made of Aluminum, Galvanized Steel or Stainless Steel for options at various cost.
Checkered patterns include multi bars, diamond and crocodile mouth type.