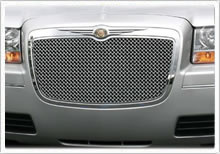 Wire Mesh Grilles for Guard & BBQ

Mallas manufactures wire mesh guard grilles for automobile components, barbecue grills and venting grills for machinery and other products.
Mallas Wire Mesh Grills – Including wire fabricated guard and grills for commercial, industrial and vehicles.

Wire grills for cars have a nice outlook, air flowing and guarding effect, can be used in the front part of the vehicles, also be used in the car as pet guards.
In regard to wire mesh grille for BBQ, correct design and the quality of the wire mesh grille make primary factors. High quality chrome coating is available upon request. Wire grilles are used in the Oven, refrigerators, freezers for wire shelves and wire trays.


Materials: Hot dipped galvanize steel, stainless steel.