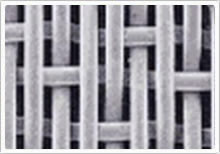 Over the years, Mallas Wire Mesh Manufacturing Co. has produced and supplied wire mesh screens, woven in stainless steel, galvanized carbon steel and other metals. Our equipment for woven wire screen is state of the art. Our policy of training and quality control management ensure that our clients benefit greatly from our good quality and economic cost.


The wire mesh screen is carefully made and finished to ensure its precise aperture and sizes for industrial screening and sifting uses. Mallas is able to handle the most demanding requirements for various wire screen and fabrications.

Besides woven wire stainless steel screen, we also supply perforated stainless steel screen, expanded metal screen and other industrial screening products.

Stainless Steel Wire Mesh Screen can be made into fine, medium and coarse openings, in 20mesh, 18mesh, 16mesh, 14mesh, 12mesh, 10mesh, 8mesh, 6mesh and 4mesh. Custom specifications are accepted.
Woven Wire mesh screen of other materials can be produced.
Sheet metal screen such as perforated stainless steel screen and expanded metal screen can be supplied.