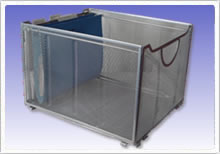 Mallas Wire Mesh Crate is made of wire mesh panels welded together with swinging doors and hooks.

The wire crafts are foldable and firm in strength and can be opened completely like a book. People can easily grasp the top wire mesh panel with one hand to lift the crate, then swing up to form a wire box.
Materials of Wire Mesh Panels: Galvanized steel or hot dipped galvanized.
Sizes: Wire crates can be made into a big range of sizes.
Application: Mallas Wire Mesh Crates are used in feeding of dogs and other animals.