Mallas manufactures square wire meshes from the following wires: stainless steel, bare steel and zinc-coated, copper, brass, bronze, aluminium and other materials at a customer's request.

Square wire mesh is a kind of solid woven wire mesh cloth with galvanised or stainless steel wire and is usually identified with the Mesh Opening or the necessary amount of light penetration in mm.



This type of wire mesh cloth is sold by kilo, in rolls of approximately 25 linear meter.

We can make different roll heights for square wire mesh on request, up to 2,000 mm.
Plain weave square wire mesh:
Plain weave is the most commonly used style of weaving. Every second wire is woven in. Warp and weft wires run over and under each other alt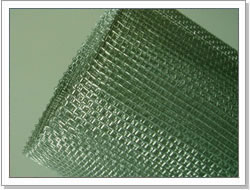 ernately and interlock. Plain weave meshes guarantee optimum accuracy of apertures or filter pores. These products use wires, which are thinner than the corresponding apertures.
Twilled weave square wire mesh:
In cases where increased wire thickness is required in relation to the aperture size, which yield in the weaving process cannot withstand, this style of weave is chosen. At least two wires are woven in pairs, subsequently displacing a single wire. Mesh stability is controlled by a combination of aperture size and wire strength, and displays a slight diagonal trend.
Specification List of Stainless Steel Wire Mesh
Mesh/Inch
Wire Gauge(SWG)
Aperture in mm
3mesh x 3mesh
14
6.27
4mesh x 4mesh
16
4.27
5mesh x 5mesh
18
3.86
6mesh x 6mesh
18
3.04
8mesh x 8mesh
20
2.26
10mesh x 10mesh
20
1.63
20mesh x 20mesh
30
0.95
30mesh x 30mesh
34
0.61
40mesh x 40mesh
36
0.44
50mesh x 50mesh
38
0.36
60mesh x 60mesh
40
0.30
80mesh x 80mesh
42
0.21
100mesh x 100mesh
44
0.172
120mesh x 120mesh
44
0.13
150mesh x 150mesh
46
0.108
160mesh x 160mesh
46
0.097
180mesh x 180mesh
47
0.09
200mesh x 200mesh
47
0.077
250mesh x 250mesh
48
0.061
280mesh x 280mesh
49
0.060
300mesh x 300mesh
49
0.054
350mesh x 350mesh
49
0.042
400mesh x 400mesh
50
0.0385
Roll width: 2'-8'
Chemical composition of stainless steel wire:
AISI
Grade

Chemical Composition(%)

C

Si

Mn

P

S

Ni

Cr

Mo

 304

=0.08

=1.00

=2.00

=0.045

=0.030

8.00~10.50

18.00~20.00

-

 304H

>0.08

=1.00

=2.00

=0.045

=0.030

8.00~10.50

18.00~20.00

-

304L

=0.030

=1.00

=2.00

=0.045

=0.030

9.00~13.50

18.00~20.00

-

316

=0.045

=1.00

=2.00

=0.045

=0.030

10.00~14.00

10.00~18.00

2.00~3.00

316L

=0.030

=1.00

=2.00

=0.045

=0.030

12.00~15.00

16.00~18.00

2.00~3.00

430

=0.12

=0.75

=1.00

=0.040

=0.030

=0.60

16.00~18.00

-

430A

=0.06

=0.50

=0.50

=0.030

=0.50

=0.25

14.00~17.00

-
Sizes of Stainless Steel Wire:
Wire Diameter(mm)

Tolerance(mm)

Max. Deviation Tolerance(mm)

0.020-0.049

+0.002
-0.001

0.001

0.050-0.074

0.002

0.002
0.075-0.089
0.002
0.002
0.090-0.109

+0.003
-0.002

0.002
0.110-0.169
0.003
0.003
0.170-0.184
0.004
0.004
0.185-0.199
0.004
0.004
0.200-0.299
0.005
0.005
0.300-0.310
0.006
0.006
0.320-0.499
0.006
0.006