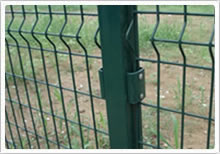 Malls (China) Wire Mesh Manufacturing has equipment to work any forms of wire mesh guards. Wire mesh are cut to any profile and fabricated into any shapes. The appropriate welding processes ensure the good quality and strength of the wire guards.
Applications: Wire mesh guards are used as drive guards, dog guards, shaft guards, agricultural guards, standby guards and anti-spark fireplace curtain guards.

Malls Wire Mesh Guards is strong, corrosion resistant, easy for clean and need less maintenance.

Materials applied for wire guards are normally welded steel wire mesh fabrics.
Custom orders for wire guards are accepted.