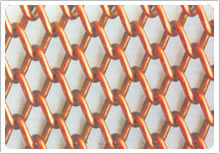 Mallas provides you with multiple choices for architectural mesh fabrics. Mallas manufactures full sizes of architectural wire mesh used in places of architectural façade, ceilings, wall decoration and partitions. Architectural meshes can be made from growing types of metals fabrics including woven wire fabrics, expanded metal screen, perforated metal decoration and chain link fabrics. Mallas provides you with multiple choices for architectural metal mesh fabrics.
Materials: Stainless steel, brass, aluminum, alloys.
Benefits:
The use of architectural mesh as a cladding material remains increasingly prevalent for a variety of exterior façade applications. While the lightweight nature and flexibility of metal fabric has always presented a multitude of functional and aesthetic benefits on their own, new visual effects have introduced the ability to take these installations to a dynamic and sophisticated new level.
Illuminating Metal Fabric Façades with Lighting
A slightly more subtle effect involves washing metal fabric façades in exterior lighting. A full range of architectural lighting solutions are available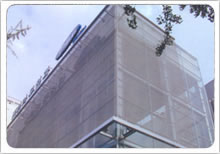 for metal fabric systems, including edge lighting, energy-efficient lighting, projection lighting, and an assortment of other options designed to dramatically enhance each metal mesh fabric installation.
Architectural mesh is also used for exterior lighting applications. With small and large surfaces work equally well, using of metal fabrics is therefore equally stunning when bathed in exterior lighting.
Application:
Architectural mesh find increasing uses in decoration and construction of the following:
Wire mesh shade screen;
Architectural façade;
Staircases;
Wire Mesh Partitions;
Ceilings;
Floor fabrics;
Other decorative uses.